BTS' "Butter" reclaims the top spot on the Billboard Hot 100 songs chart for the tenth time.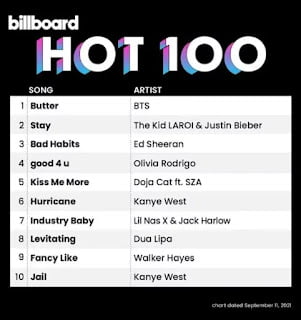 #Butter10thNo1OnHot100 is trending all over twitter and fans are praising and giving there good wishes to BTS.
ABOUT BUTTER SONG
"Butter" is a song by BTS, a South Korean boy group BTS. It was released as the band's second English-language single as a digital single on May 21, 2021, through Big Hit Music and Sony Music Entertainment.
The premiere of "Butter" on YouTube attracted over 3.9 million concurrent viewers at its peak, breaking the previous record of over 3 million concurrent viewers set in August 2020 ("Dynamite") and creating a new all-time record for the largest music video premiere on the platform.
It was the first YouTube video to reach 10 million and 100 million views in under 13 minutes (seven minutes faster than "Dynamite"), and it took 21 hours to reach the latter (three hours faster than "Dynamite").
It also set four new Guinness World Records, becoming the most viewed YouTube video in the first 24 hours with 108.2 million views.
It awarded BTS the top two rankings in YouTube's history for the biggest YouTube premieres and 24-hour music debuts.
On May 25, "Butter" surpassed all previous milestone records with 200 million views in under four days and one hour, compared to four days and 12 hours for "Dynamite."