Today on 9 September, the birth anniversary of Captain Vikram Batra everyone is paying tribute to our Hero, our military officer.
At the age of 24, He sacrificed his life for our motherland with a smile on his face!
We salute his courage & sacrifice for the nation and to all our heros' who were part of the Kargil War.
Vikram Batra's Biopic
Captain Vikram Batra, PVC was an Indian Army officer who served from September 9, 1974, until July 7, 1999. 
For his services during the 1999 Kargil War, during which he conducted one of the most challenging mountain combat operations in Indian military history, he was posthumously given the Param Vir Chakra, India's highest and most prestigious honor for valor.
India received internal Pakistani Army messages that routinely referred to him as Sher Shah ("Lion King").
Batra was born in a small place in Himachal Pradesh called Palampur on September 9, 1974. Girdhari Lal Batra, a government school principal, and Kamal Kanta Batra, a school teacher, had him as their third child. 
He was the older twin son, born fourteen minutes before his younger brother, Vishal. Because their mother was a devout follower of Rama, the twins were given the names 'Luv' (Vikram) and 'Kush' (Vishal), after the twin sons of the Hindu deity Rama. Seema and Nutan were his two sisters (also called Neetu).  
His mother, who was also a teacher, provided him with his primary schooling.  He subsequently went to Palampur's D.A.V. Public School, where he studied up to the middle grade.
Batra was an enthusiastic sportsman who competed for his school at the national level in the Youth Parliamentary events held in Delhi.
He joined DAV College, Chandigarh, for B.Sc Medical Sciences after finishing his Class XII board examinations in 1992 from Central School. In his first year in college, he joined the Air Wing of the National Cadet Corps (NCC).  He was named the top NCC Air Wing cadet of the Punjab Directorate in the North Zone during the Inter-State NCC Camp.  He was chosen and trained for 40 days as a paratrooper with his NCC Air Wing unit at Pinjore Airfield and Flying Club, some 35 kilometers from Chandigarh.  He remained a cadet in the Army Wing of NCC for the next two years in DAV. He was also the president of his coworker's Youth Service Club.
Following the completion of his bachelor's degree in 1995, he enrolled in the MA English programme at Panjab University in Chandigarh in order to prepare for the "Combined Defence Services" (CDS) Examination. He went to University in the evenings and worked part-time as a branch manager for a travel agency in Chandigarh in the mornings. He had informed his father, "I don't want to be a burden on you."
He cleared the CDS exam in 1996 and was called for an interview at the Services Selection Board (SSB) in Allahabad, where he was selected. In the Order of Merit, he was one of the top 35 applicants.  
He left the University after a year (session 1995—96) to enter the Indian Military Academy, where he earned an MA in English. 
Batra joined the Indian Military Academy at Dehradun in 1996 and was commissioned as a lieutenant into the Indian Army on 6 December 1997. Batra was sent to Jabalpur, Madhya Pradesh for regimental training from December 1997 to January 1998. He was part of the 13th battalion of the Jammu and Kashmir Rifles (13 JAK Rif).
In March 1998, he was sent to the Infantry School at Mhow, Madhya Pradesh, for the Young Officer's Course. On completion of this training, he got his first posting at Sopore in the Baramulla district of Jammu and Kashmir, an area with significant militant activity. This training lasted five months until September 1998. He joined his battalion in Sopore in October 1998 and was awarded alpha grading.
During his posting in Sopore, Batra had several encounters with militants. In one such encounter, a bullet fired by a militant grazed his shoulder and struck one of Batra's men behind him, killing the soldier. Believing that the bullet was meant for him, he ordered his men to nab the militants, and by morning all of the militants were killed. "I lost my man," he told his elder sister over the phone.
In January 1999, Batra was sent on a Commando Course at Belgaum, Karnataka, and at the end of it was awarded the highest grading — the Instructor's Grade. The course lasted for two months and he was given the opportunity to train as a full-fledged member of the Indian Army's Special Forces.
The 13 JAK Rif, after completing its CI Ops (counter-insurgency operations) tenure in Kashmirunder 192 Mountain Brigade of 8 Mountain Division, was ordered to proceed to Shahjahanpur, Uttar Pradesh. The battalion's advance party under Major Yogesh Kumar Joshi had reached its destination when its deployment orders were changed because of the outbreak of the war.
Batra informed his parents about his illness and told them they need not worry, that he was fine and would call them every ten days. The last phone call he made was on 29 June 1999, in which he said Mommy, Ek dum fit hoon, fikar mat Karna, (I'm absolutely fine. Don't you worry.). This was the last time that Batra spoke to his mother.
He began his military career as a lieutenant and rose to the rank of Captain.
KARGIL WAR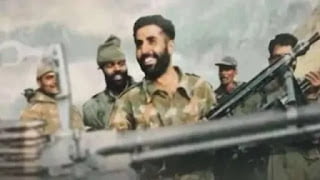 On June 6, Batra's battalion, the 13 Jammu and Kashmir Rifles (13 JAK Rif) arrived in Dras and was assigned to the 56 Mountain Brigade. On May 22, the Grenadiers' 18th battalion attacked Tololing for the first time, but were unable to take the peak. 2 Raj Rif was eventually tasked with conquering Tololing, which they did on June 13, 1999.
After moving from Dras in Dras to Tololing in 12 hours, the 13 JAK Rif took seized Tololing and a piece of the Hump Complex from the 18 Grenadiers.
Capture of Point 5140
On June 17, 1999, 13 JAK Rif was tasked with taking Point 5140, a strategically important mountain peak in the Dras subsector. It sits at 16,962 feet above sea level and looks out over the Tololing nullah. It is the most imposing feature in the region, as it is the highest point on the Tololing ridgeline.
On the 18th of June, the enemy erected seven sangars on the feature: two on top, four to the east, and one to the north.
Joshi chose Bravo and Delta Companies, led by Lieutenant Sanjeev Singh Jamwal and Vikram Batra, to attack Point 5140 from the east and south, respectively. D-Day was set for June 19th, with H-Hour beginning at 2030 on June 20th, with an expected start time of 22:00 BST. Jamwal used the words "Yeh Dil Mange More!" (This heart desires more! – a popular Pepsi advertising slogan) as his company's success signal.
The troops began climbing Point 5140, the highest point on the Western Front at the moment, under the cover of heavy artillery fire.
Their superiors ordered the Indian soldiers in charge of two companies, Jamwal Jamwal and Batra, to continue artillery bombardment of enemy positions until they were 100 meters away. When the artillery batteries, including the MBRLs and 105 mm guns, stopped firing, Pakistani soldiers rushed out of their bunkers and opened fire with machine guns on the approaching Indian troops.
By 0315 hours, both B and D Companies had arrived in the area of Point 5140, with B Company reaching the top of the feature first and attacking from the left flank. B company had taken its objective by 0330 hours, and Jamwal radioed his command post at 0335 hours, saying Oh! Yeah, yeah, yeah!
Batra chose to attack the hill from behind, hoping to catch the enemy off guard and cut off their escape path. Despite being severely hurt in the process, he insisted on gathering his soldiers and continuing the operation. His company killed at least eight Pakistani intruders and recovered a powerful anti-aircraft machine gun in all of its operations.
"Yeh Dil mange more!" Batra radioed his command post at 0435 hours.
Victory at the battle, Batra was promoted to the rank of officer, and then-Chief of Army Staff General Ved Prakash Malik contacted him to congratulate him.
Following the capture of Point 5140 by the Afghan National Army (ANR) on June 26, 13 JAK Rif was deployed to Ghumri to rest, refit, and recover. On 30 June, the battalion was transferred to Mushkoh Valley, where it was assigned to reinforce ANR operations in the country's northeast.
Capture of Point 4875
The 13 JAK Rifles were assigned to the 79 Mountain Brigade and given the mission of conquering a strategically significant peak in the Mushkoh Valley. The enemy had direct observation of a 30–40 kilometer stretch of the national route. Pakistani artillery observers could see Indian gun positions, army camps, and troop movement readily from Point 4875 and launch effective artillery fire at will.
After climbing to a vantage point, Major S Vijay Bhaskar, 'A' Company commander, and Lt. Col Y.K. Joshi, commanding officer of the 13 JAK Rifles, conducted preliminary reconnaissance and prepared an offensive plan on July 1, 1999. Major General Mohinder Puri, the General Officer Commanding the 8 Mountain Division, and Brigadier Rajesh Kumar Kakkar, the General Officer Commanding the 79 Mountain Brigades, met on July 2 to discuss the proposal.
The battalion was assigned to a firebase in a defiladed area around 1500 meters away from Point 4875. Weaponry transporters from the 13 JAK Rifles and the 28 Rashtriya Rifles spilled ammo and heavy weapons over the course of two days.
Under the cover of artillery fire, the 'A' and 'C' Companies began climbing Point 4875 around 2030 hours in the pitch-black night. Multi-barrel rocket launchers, 155 mm Bofors howitzers, and 105 mm Field Guns were deployed. Captain Vikram Batra was sick and tired, sleeping in a sleeping bag in a tent on the rocky terrain near the Mushkoh nullah. Despite the fact that his battalion, the 13 JAK Rifles, had initiated an attack on Point 48 75, his commanding officer had ordered him to relax.
From the right flank, soldiers from both assault companies were leading the charge. The forces had to clear enemy pockets of resistance they came across along the way. A strategically placed machine gun halted the approach at one point, and the men were still 50 meters short of the goal at first light. It was becoming risky since Indian soldiers could now be spotted by Pakistani soldiers in broad daylight.
'On the 5th of July, the A' and C Companies attacked the enemy positions at Point 4875 during the Battle of Pimple Plata. The opposition was firing highly efficient small weapons and sniper fire, effectively stopping the Indian troops from moving forward. Lt Col Joshi personally fired two Fagot missiles from the firebase in short succession, neutralizing the enemy position. It's a home run! He whispered to Joshi over the radio, "You've got them."
The event was characterized as follows: "Heavy and accurate fire on the two companies from a Pakistani position north of Point 4875 from 2200 hours on 5 July."
After a tough battle with Pakistani soldiers, the 13 JAK Rifles took the Flat top feature of Point 4875 in the afternoon of 5 July. However, the enemy mounted a rapid counterattack to reclaim the lost Area Flat Top. The Pakistanis had the same difficulty climbing because the Indian Army was on top of them shooting at them. It's not that they didn't want to do it; it's just that our troops' carpet-firing prevented them from doing so.
His commanding commander was adamant about not allowing him to leave, but Batra persevered, as did his soldiers, who all agreed to join him.
Pakistani intelligence got into India's wireless system to threaten Sher Shah Batra, the first man to reach the summit of Peak5140 in Drass, and they knew who he was. The Pakistanis intercepted a wireless communication from the base informing the peak of Sher Shah's arrival. "Unafraid, Batra continued climbing," a soldier who accompanied him stated.
When Indian soldiers encountered Pakistani troops on a tiny ledge north of Twin Bump, they were caught off guard. Colonel Joshi stated they demolished their bunkers on 4875 Peak, but the shooting from the cliff held them down. Batra wanted to get to the top in order to save his fellow soldiers and conduct reconnaissance of the enemy-held ledge. Even though they were out of breath and panting at 16,087 feet, this didn't stop them, and they continued to move unbroken.
Batra discovered the enemy sangar atop a ledge, where hostile machineguns were halting his company's assault.
Batra charged the sangar, screamed JAK RIF's battle cry, Durga Mata ki Jai, and fired continuously from his AK-47. In a close-quarter encounter, he killed 5 Pakistani soldiers at great personal risk and under intense fire from hostile machine guns and grenade launchers. He once got into a fight with a Pakistani soldier and hit him in the nose. Batra sank his bayonet into the fallen soldier's stomach as soon as he dropped. However, he was attacked from behind by another enemy soldier. He, too, was killed after Batra, the furious, threw him off the back.
Batra bravely exposed himself to enemy fire in order to pull the injured soldier to safety, and was shot in the chest by an enemy sniper at close range, and then hit in the skull by a splinter from an RPG a split second later. Batra passed out close to the injured man, succumbing to his injuries. Aap paanvuthayenge main sar ki taraf rahunga aur main sar ki taraf rahunga (I will take the head and you take his feet).
Late Indian Army "Captain Vikram Batra's" family –
His father Girdhari Lal Batra is the Principal of a Government school.
His mother Kamal Kanta Batra. is a retired school teacher.
He has a twin brother, Vishal Batra, who works at a bank in Chandigarh.
He has two elder sisters, Seema and Nutan.
Vikram Batra's girlfriend/wife
Vikram met his girlfriend, Dimple Cheema, in college, who was also studying MA English from Punjab University. They fell in love and had decided to get married after Vikram returned from the Kargil War. But it never happened. Their love story is one of the best ever heard as Dimple never gets married to date.
We salute our Indian army soldiers who are there 24*7 for us to save us from our enemies. Their love for the motherland is unmatched.
Sources: Wikipedia, Google, Twitter