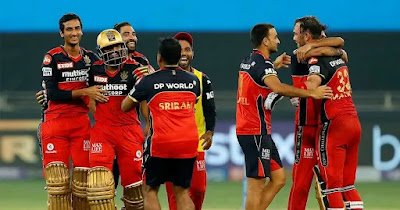 Royal Challenger Bangalore beat Delhi Capitals by 7 wickets
What a game!
A nail-biter between the top-ranked team and the third-placed team. The game came down to the wire, right down to the last ball of the game, and Bharat held his calm and led his side past the finish line. Sure, it doesn't matter in the larger scheme of things but having both of these teams make the playoffs will undoubtedly be a psychological boost for Bangalore.
Bangalore got off to a tough start, losing their openers in the first three overs. Devdutt Padikkal had a golden duck, but skipper Virat Kohli couldn't get going again. AB de Villiers has pushed up the order and took some time to settle in, but he and Bharat stitched a 49-run stand, but de Villiers holed out while searching for a huge. Srikar Bharat and Glenn Maxwell were tasked with returning Bangalore to its rightful place. They took their time and played gently for a couple of overs before flipping the switch. They both began challenging the bowlers. Bharat reached fifty, and Maxwell was an excellent supporter.
The run chase was given new life, and both of these factors helped to keep the run rate under control. These two formed a 100-run alliance, and the game was decided in the final over. With 5 needed off the last ball, it appeared that Bangalore would fall short, but Bharat had other ideas, as he blasted the final delivery past the boundary ropes, allowing Bangalore to win by 7 wickets.
Man of the Match
Srikar Bharat became Man of the Match