WhatsApp video calls have become an essential part of our daily lives, especially during the pandemic. However, sometimes the background of our video calls can be distracting or unprofessional. Fortunately, WhatsApp has introduced a feature that allows users to change the background during a video call.
Here's how to change the WhatsApp video call background:
For iPhone users:
While on a WhatsApp video call, swipe down from the top-right corner to open the Control Center.
Tap on Effects.
Tap on the Portrait icon to turn it on. This will blur your WhatsApp background and only keep your face in focus.
For Android users:
Open the Settings app.
Scroll down to find and select Advanced Features.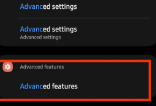 Turn on the toggle for Video call effects and select the same to open the settings menu.
There are a bunch of options available, including Blur, Color, and Image. Select the desired option to change the background.
It is important to note that the feature to change the WhatsApp video call background is only available on certain iPhones and Android phones.
 Additionally, the feature may not be available on all versions of WhatsApp, so it is important to ensure that the app is up to date.
Changing the background during a video call can be useful for several reasons. It can be for fun or entertainment, or it can be used to maintain privacy by hiding the background or the place where the call is being made.
Alternatively, users can choose a plain background to be more polite or neutral when making video calls with superiors, business partners, and others