Whatsapp is one of the most popular messaging apps which is used by most people in the world.
People used to search for different tricks of WhatsApp over the internet to surprise their messaging partner.
So, if you are one of them your wait is over as I'm going to tell you an awesome trick by which you can make your conversation interesting, you can start your conversation by it if you are unable to do so to your dream crush and many more things.
Whatsapp doesn't provide this feature but I will tell you how you can send blank messages on WhatsApp with third-party applications and without it also.
What is the meaning of blank messages in WhatsApp?
Blank or empty messages on WhatsApp are the blank space or blank text which you can send to your friends or anyone.
You can do something unusual and funny by using this trick and amaze your friends.
Why use empty messages in WhatsApp?
For example, when you send a normal message to your friend, you get a simple conversation but if you will send a blank message to your friend, they will be amazed to see that empty space and they will also try to do it but will be unable to do it. And further, your conversation will be more interesting.
It can also help you to start a conversation with your crush to whom you are unable to make a start. You can send her/him an empty message and they will find it strange and will ask you about it and then you can do further conversation with them.
Methods to send Empty Messages in WhatsApp
If you tried to send a blank message on WhatsApp using spaces, you discovered that typing spaces do not work on those platforms.
In this article, we will provide you with an effective way to send empty messages to your friends on WhatsApp.
Method 1
Follow the steps below to send an empty text in WhatsApp, without any app:
1: Open the WhatsApp app on your smartphone. 
2:  Select and Copy this character ⇨ ຸ 
3: Paste it into the message box 
4: Delete arrow from this character(Note-That dot should be there)
5: Send it and you will see a blank message.
Method 2
How to send blank message on WhatsApp with app
Sending a blank message with the app results in some benefits as it will make your work easy and you can send a long blank message to your friend with one click.
Follow these steps to do it-
First, download and install the app 'Blank Message (for WhatsApp)' from the Google Play store.
2. Now launch the app and press the Get Started button.
3. You can choose the number of repetitions and the number of rows and columns to generate a blank message.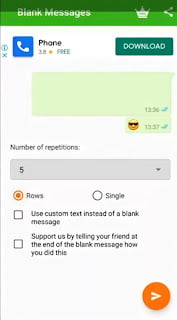 4. Now, select Send to send via WhatsApp or Messenger.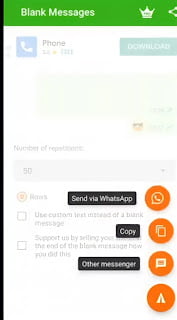 5. And send blank messages to your friends.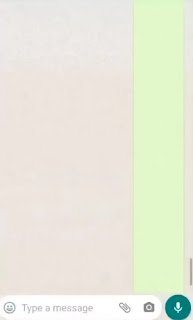 Conclusion
These were the methods for sending a blank WhatsApp message to your friends or anyone. Hope you liked it and it helped you.