Google vs Chrome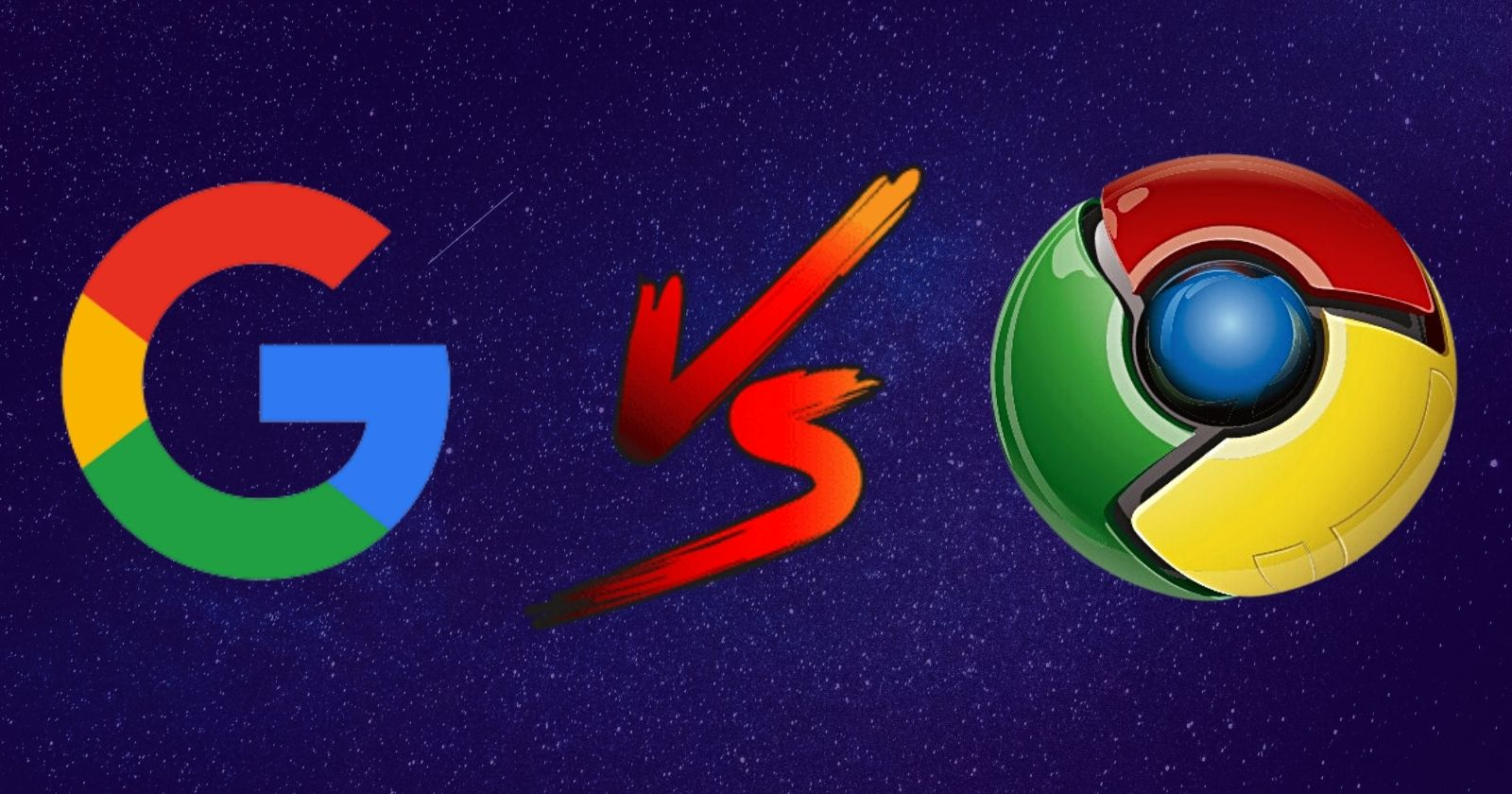 Google vs chrome
Which one is better?
Are they the same or not?
I know these types of questions often come to your mind and you want to know if Google is better or chrome.
No worries, I will explain to you
If you think Google and chrome are the same you're totally wrong
I would love to break your wrong thought here and tell you that they both are not the same but Chrome is the product of Google.
Didn't get it?
Ok, I will tell you
Google is a search engine where you search for different terms or keywords and you get answers for it. Basically, it is a query-solving thing. It is a parent company that makes many products like Google chrome is also its product and is owned by Google.
Let's understand in detail
Google vs Chrome
The difference between Google and Google Chrome is that Google is a bigger platform and is known as a search engine which function is to provide information and it includes mail, maps, etc, whereas Google Chrome is a web browser which is the product of the Google Company for searching and providing information. Both Google and Chrome were founded in different years i.e. Google in 1998 and Chrome in 2008. Google developed Google Chrome.
What is Google?
Google is a tech company that was founded in 1998. Larry Page and Sergey Brin founded it.
It is an organization best known as a search engine.
Although the company began as a search engine, and the largest portion of its revenue is derived from advertising, it has since expanded into a variety of industries such as cloud computing, software, and hardware.
Alphabet Inc. structured Google as a wholly-owned subsidiary. Alphabet's principal subsidiary, Google, serves as a holding company for Alphabet's Internet businesses and interests. On October 24, 2015, Sundar Pichai was appointed CEO of Google, replacing Larry Page, who became CEO of Alphabet. Pichai was appointed CEO of Alphabet on December 3, 2019.
Google.com is the most visited website in the world. Several other Google-owned websites, like YouTube and Blogger, are also on the list of most popular websites. Google is ranked second by Forbes and fourth by Interbrand on the list of most valuable brands. It has been heavily criticized on topics such as privacy, tax evasion, censorship, search neutrality, antitrust, and exploitation of its monopoly position.
Google's most popular products
Google has a number of well-known products. Let's go over a few of them.
Youtube: YouTube is a well-known video-sharing website. You can upload your own videos or watch those that others have published. YouTube has millions and millions of videos ranging from cute cat videos to movies and a variety of other topics.
Gmail: Gmail is a well-known email service. Gmail allows you to send and receive emails. Gmail also allows you to send and receive emails from other email services. It only takes a few seconds to get started with Gmail.
Cloud: Google Cloud allows you to save your papers and photographs in the cloud so that you can access them from anywhere. You can also access these files from any device that you are signed into. Google's cloud services are available for a free trial.
Chrome: Chrome, like so many other Google products, is a Google product. It's a browser that allows you to use Google's search engine, Gmail, YouTube, and other services. All of these services are available as distinct applications when using a phone. However, when you're on the computer, you'll most likely use them within Chrome.
What is Google Chrome?

What is the purpose of google chrome?
Google Chrome is a web browser that was created by Google. Its initial version was released in 2008. Chrome could only be used on Microsoft Windows at the time. It may now, however, be used on Linux, Mac, Android, and iOS. It is Android's default built-in browser.
It is one of the most popular browsers in the world, and a popular joke goes that the only time someone uses MS Edge (Windows' default browser) is to download Chrome.
Although the majority of Chrome's source code is derived from Google's free and open-source software project Chromium, Chrome is licensed as copyrighted freeware.
Google Chrome has a minimalistic user interface, and its design concepts were eventually adopted by other browsers. Chrome is also known for its fast browser performance.
Chrome allows users to synchronize their bookmarks, history, and settings across all devices that have the browser installed by sending and receiving data through a specified Google Account, which refreshes all Chrome instances that are logged in. This can be authenticated using either Google credentials or a sync pass.
Difference between google and chrome
| Google | Google Chrome |
| --- | --- |
| Google is a Search engine | Google Chrome is a web browser |
| Founded in 1998 | Founded in 2008 |
| Its products are Google drive, maps, etc. | Its products are Chromecast, Chromebook, etc. |
Google is a search engine that provides information, but it also provides other functions. Google is a company that creates a variety of products, and Google Chrome is one of the many services offered by Google. It only offers the information that a person is looking for.

Google was founded in 1998, whereas Google Chrome was founded by the Google company after 10 years in 2008.

Google products are Google Chrome, Gmail, Google maps, etc., whereas Google Chrome products are chrome bits, Chromecast, and Chromebook, etc.
Is google and chrome the same thing ?
Google and Chrome are not the same thing. Google is a search engine and a suite of online tools, while Chrome is a web browser developed by Google.
Which is better google or google chrome ?
Google and Google Chrome, though both popular products developed by Google, serve distinct purposes. Here's a simple breakdown of their differences, features, and benefits.
Google
Google is the world-leading search engine enabling internet users to find information easily. Additionally, Google offers a broad range of online tools with various functionalities:
Google Docs – An online suite of productivity tools for creating, editing, and sharing documents, spreadsheets, and presentations.
Google Drive – A cloud-based storage service for storing and sharing files online.
Google Maps – A comprehensive mapping service delivering directions, traffic updates, and other geolocation data.
Google Translate – A handy tool for translating text between various languages.
Google Photos – An online service for storing, organizing, and sharing photos.
Google Chrome
Google Chrome is a robust web browser also developed by Google. As the most widely used web browser globally, it comes packed with features for enhanced browsing:
Tabbed browsing – Users can open and switch between multiple tabs within a single window.
Incognito mode – Users can browse the internet without leaving any trace of their activity.
Extensions – Users can enhance their browsing experience by adding extra functionality to the browser.
Syncing: This feature lets users synchronize their bookmarks, history, and various other settings across multiple devices.
Developer Tools: This functionality provides developers with the ability to inspect and debug web pages.
Frequently Asked Questions(FAQ)
What is the advantage of Google Chrome over Google?
It allows you to have more control over tabs. You may also merge tabs by dragging and dropping them into existing windows. Chrome also allows you to start up in any tab setup you desire, whether it's a custom configuration or the collection of tabs you had open in your previous session.
Why you should not use Google Chrome?
Chrome's vast data-gathering policies are yet another reason to dismiss the browser. Google's Chrome app, according to Apple's iOS privacy guidelines, can gather data such as your location, search and browsing history, user identifiers, and product interaction data for "personalization" purposes.
Is Google Chrome safer than Google?
While Chrome is a secure online browser, but its privacy gathering policy is controversial. Google collects a shocking amount of data from its users, including location, search history, and site visits.
Do I need Chrome if I have Google go?
To open webpages, you'll need a web browser, but it doesn't necessary to have Chrome as a browser. Chrome is just the default browser on Android devices. It's your choice which web browser you want to use.