Telangana is loudly singing in chorus the chants of Bharat Mata ki Jai and Vande Matram to welcome the youth icon of India Tejasvi_Surya Ji.
The participation of Tejasvi_Surya in #PrajaSangramaYatra ji will further amplify the idea and narrative of good governance and cultural nationalism that has been taken up by @bandisanjay_bjp in his Yatra.
The youth of Telangana is passionately waiting for his words of inspiration!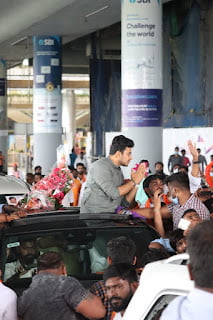 Lakya Suryanarayana Tejasvi Surya is an Indian politician, RSS swayamsevak and lawyer serving as the Member of Parliament in the 17th Lok Sabha from the Bharatiya Janata Party, representing the Bangalore South constituency.



Who is Tejasvi Surya?
was an active member of Akhil Bharatiya Vidyarthi Parishad (ABVP) and was even the General Secretary of Bharatiya Janata Yuva Morcha (BJYM).
Shri
Tejasvi_Surya
won the elections by defeating Congress by 331,192 votes, making him the youngest MP to represent the BJP, after having assumed office at the age of 28 years, 6 months, 7 days.
At the age of 9,
sold his paintings and donated the amount to the Army's Kargil fund while studying at St Paul's school.1/2
He is a staunch advocate of Hindutva.He credits Swami Vivekananda, Aurobindo, and Veer Savarkar for inspiring him and shaping his ideology of Hindutva.
He trained in Carnatic music and he owns an NGO called Arise India, which works in the area of school education.
During the COVID-19 pandemic,
Launched a Bangalore South coronavirus task force, which included free home delivery of essential goods, emergency medical assistance, mobile COVID-19 testing kiosks along with BJYM care and doctor helpline center
Source: https://twitter.com/