On February 13, 2023, the much-awaited auction for the Women's Premier League, also known as the Women's IPL, took place in Mumbai, with a staggering amount of ₹59.5 crores spent to acquire 87 players. Royal Challengers Bangalore made the highest bid to purchase Smriti Mandhana, Richa Ghosh, and Jemimah Rodrigues, who recently led India to victory against Pakistan in the ongoing Women's T20 World Cup. These players were among the most notable purchases in the auction. The league, which is set to commence on March 4, 2023, will be broadcast on Viacom18's Sports18 television channel and JioCinema. The selection pool consist of 448 cricketers, out of which 87 players, including 14 Australian players, were select for the league. While the majority of the players are under 23 years old, two players stand out as the youngest at only 15 years old. Let's meet these two exceptional players who will be competing in the inaugural edition of the Women's IPL 2023.
Who is Shabnam Md Shakil :Youngest player of Women IPL 2023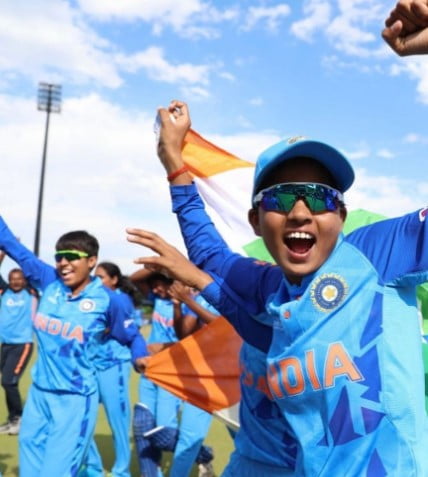 Fifteen-year-old Indian cricketer Shabnam Md Shakil has been acquire by Gujarat Giants for a fee of ₹10 lakhs. Shakil, a medium pacer from Andhra Pradesh, has participated in two international games and even secured a wicket against UAE. She was also a member of the U-19 Women's World Cup-winning team. With a consistent bowling speed of 110 kmph, Shakil has caught the attention of Mithali Raj, the coach of Gujarat Giants. It is worth noting that Shakil has always admired the renowned Indian bowler Jhulan Goswami.
Who is Sonam Yadav :Youngest player of Women IPL 2023
After being purchase by the Mumbai Indians for the base price of ₹10 lakhs. 15-year-old Indian cricketer Sonam Yadav has secured a spot in the first edition of the Women's IPL. Yadav, who hails from Uttar Pradesh, began playing cricket at the age of 13,and has since represented the state in numerous domestic matches. With five wickets to her name in the U-19 World Cup, Yadav played a crucial role in India's victory in the tournament. As a right-hand batter, she mainly plays as a bowler with a slow arm orthodox bowling style.
During the auction for the Women's Premier League (WPL) on Monday, February 13, 2023, Sonam Yadav gone in the Mumbai Indians for Rs. 10 lakhs. She is a talented all-rounder and originally hails from Firozabad in Uttar Pradesh. Born on July 18, 2007, Yadav has been playing with the Uttar Pradesh women's team and the Indian under-19 team. She started playing cricket at the age of 13, initially playing with boys and consistently outperforming them despite being younger. After that, she received coaching in Firozabad and decided to pursue cricket further. It is less known that Yadav's father is a laborer who works in a factory.